LEE MARVIN: A PERSONAL PORTRAIT
Film: "Donovan's Reef"
January 4, 2000 at 8:00pm
January 9, 2000 at 12:00pm (documentary showing only)

One of the most recognizable faces in the movies, Lee Marvin lent us that face in films like "The Big Heat (1953), "The Man Who Shot Liberty Valance""(1962), "The Dirty Dozen""(1967), "The Caine Mutiny" (1954), and many others. His characters are generally tough and aggressive and his ruddy face and piercing eyes made him a natural for westerns, military men and a variety of other heavies. Directed and conceived by one of Marvin's closest friends, the acclaimed director John Boorman, this one-hour special features film clips, home movies and interviews with close friends, providing thoughtful insight into the personal life of Lee Marvin.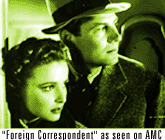 VISIONS OF LIGHT
Film: "Foreign Correspondent"
January 11, 2000 at 8:00pm
January 16, 2000 at 12:00pm (documentary showing only)

The Art of Cinematography. A glorious and eye-filling tribute to the greatest cinematographers, featuring scenes from lavish costume epics to gritty noirs. Directly followed by an airing of "Foreign Correspondent," Alfred Hitchcock's espionage thriller about an American reporter witnessing the fall of Europe during the early days of WWII. (Jan 11th)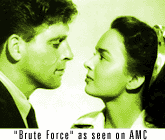 THE MOVIEMAKERS: RICHARD BROOKS
Film: "Brute Force"
January 18, 2000 at 8:00pm
January 23, 2000 at 12:00pm (documentary showing only)

Tough, angry, literate and sentimental, Brooks was one of the movies' last great characters and one of the industry's great anecdotalists. He made the last great film about newspapering ("Deadline, USA," with Bogart) and the first great move about juvenile delinquency ("Blackboard Jungle," with Sidney Poitier) which featured the first rock song ever played on a movie soundtrack. Brooks made westerns and he adopted Tennessee Williams, Joseph Conrad and Dostoyevsky to the screen with the same passion, commitment and energy that marked all his work, all his life.





WILD BILL WELLMAN: HOLLYWOOD MAVERICK
Film: "The Ox-Bow Incident"
January 25, 2000 at 8:00pm
January 30, 2000 at 12:00pm (documentary showing only)

Narrator Alec Baldwin, plus a couple dozen commentators -- such as Clint Eastwood, Robert Redford, Jane Wyman, Robert Mitchum and Martin Scorsese -- hone in on Wellman's legacy. They consider his best films, from 1927's "Wings," which won the first Best Picture Oscar®, "The Call of the Wild" (1935); "Nothing Sacred" (1937); "A Star Is Born" (1937); "The Ox-Bow Incident" (1943); and "Good-bye, My Lady" (1956). And they try to define what constituted a Wellman picture. Followed by "The Ox-Bow Incident" starring Henry Fonda. (Jan 25th)